The biggest owners of gold are tiring of the metal.
Central banks — holders of about 32,900 metric tons of bullion — cut their purchases by40 percent during the three months through June, compared with the same period a year earlier, to the lowest since 2011, World Gold Council figures compiled by Bloomberg show. It was the third-straight quarterly drop, the longest such streak in at least five years.
Buying declined in 2016 as prices were rallying for their biggest first-half gain in 40 years. Central banks in emerging-market nations have been adding less gold as the amount of cash they get from exports declined, said John Nugee, a manager of Bank of England reserves in the 1990s.
"The flows have slowed dramatically," said Thorsten Proettel, a commodity analyst at Landesbank Baden-Wuerttemberg in Stuttgart. "This could be a very important factor for the market."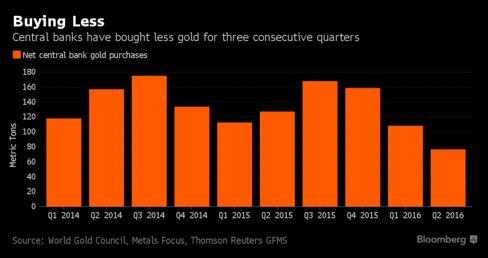 Central banks have been a bullish influence on gold, especially after the financial crisis, when prices rallied to a record high in 2011. Before then, government bullion reserves had been dropping for almost two decades. But central banks have been net buyers every year since halting the selloff in 2008, and as of June had the biggest hoard in almost 15 years.
The recent slowdown may signal buyers' fatigue, especially for countries with fewer exports. Through April, global trade in general has fallen to the lowest since 2010, according to the International Monetary Fund, while currency reserves are down almost 8 percent from a peak two years ago, data compiled by Bloomberg show.
A prime example is China, which has amassed the world's fifth-largest gold reserves as it became the world's second-largest economy.